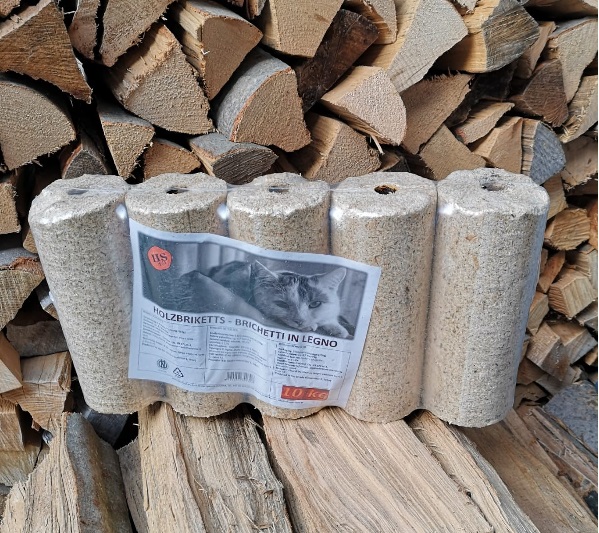 Briquettes

Information and Quality of our productes
Our briquettes are a natural product – 100% pure conifers!
Briquettes are made of sawdust without any additives. The sawdust gets pressed through a matrix by high temperature (similar to the pellets production). As a result the water content is reduced and a high energy content (approx. 5,2kWh/kg) can be achieved. Due to the homogeneity of the product a highly equal combustion with nearly no pollution can be achieved. Briquettes are pure biomass product and therefore CO2-neutral. Therefore they also don't contribute to the greenhouse effect. Another advantage is that the ash can easily be used as fertilizer.
| | |
| --- | --- |
| Packaging: | 5 briquettes/pack (10kg) |
| Heat value: | ca. 4,9 kWh/kg |
| Residual ash: | low ash content of approx. 0,6% |
| Moisture: | approx. 8% |
| Certification: | ÖNORM EN ISO 17225-3, DIN PLUS Reg.Nr. 7A134 |
Briquettes:
long-range heat supply



low emission combustion with
less reidual ash



without any synthetic additives



ideal for oven and chimneys



don't burn the packaging (polyethylen)!



store the pellets dry and protect them of solar irradiation!
Downloads:

Technical datasheet